Top Housing Charities to Donate to During the Holidays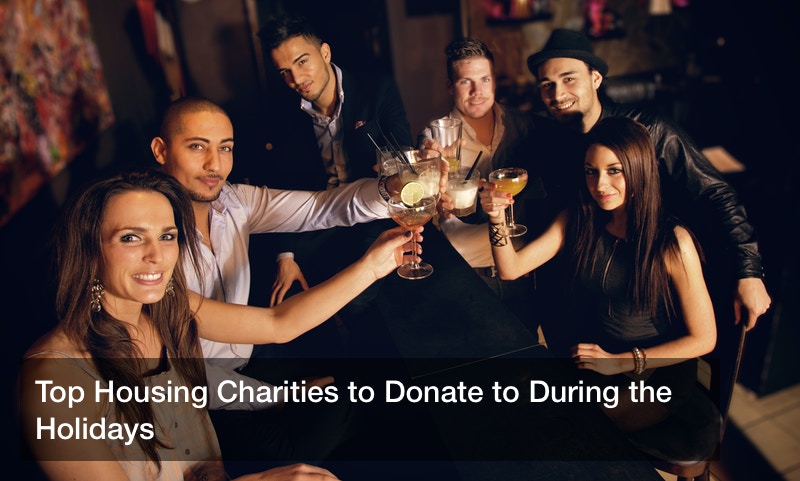 Most people love the holiday season because it is a season of joy and festivity to be had by all. Colored lights, delightfully flavored treats, and special songs are just some of the images that pop up in most people's minds. Regardless of what holiday you celebrate (or even if you celebrate none at all), there is no denying that some sort of special energy is in the air. It is a yearly ritual that tries to remind us of what is really important in life. Not consumption, entertainment, or other trivial pursuits, but connecting with other and appreciating life.
It is the season of giving, for sure. But many people are conflicted about what charities to give to and why. Everyone has their own personal preferences for what are the most important issues that need to be resolved, and that's fine. But this article in particular will be focusing on home charities. Home charities in particular are a worthwhile cause to focus your energy on, considering that more than 1 billion people face housing insecurity. We are lucky to live in a time and place in human history where there are many resources to help people with housing issues and allow private citizens a seat at the table.
In this article we'll discuss a brief history of home charities and why they exist, as well as mentioning the top organizations. We'll go over how you can help any of these organizations regardless of what skills you have, especially if you happen to be in the housing industry. Home design and remodeling experts are in just as much demand as electricians. As the old adage goes: if there's a will, there's a way. There are many ways to help your fellow humans out while also helping yourself because it truly is a two-way street.
Why Home Charities Exist And Are Amazing
Home charities are not a new thing, and have existed in some form or fashion since people have been helping each other. Cultures such as the Amish used to have barn-raising events, where members of the community would pitch in to create new barns or even new construction homes for those that had been lost in a fire or disaster. Almost every culture throughout history has had some form of charitable housing project, but what we are going to focus on in this article is the modern organizations such as Habitat for Humanity, Homes For Our Troops, and various others.
These organizations are almost always staffed by professional individuals that both volunteer their time receive compensation from the charity, so they know how to get things done just like a private market company would. From arranging donations of materials or purchasing them below cost, they are highly organized groups. Far from simply building new homes, many home charities also have the ability to provide an interest-free home loan to individuals who would otherwise not qualify from one from traditional lenders. Some even offer classes and education to those first-time homeowners.
Home charities are amazing because they mix the personal and the professional in the best ways. The average citizen or employee can bump elbows with local roofers to help accomplish the same purpose: giving someone a home who otherwise would go without. Just because you are painting a wall and not soldering an electrical box doesn't mean that you're not a vital asset to the overall project. Many hands make light work, and you are one of those many hands!
Some Of The Top Home Charities That Exist
In case you are not aware of what the top home charities are and what they do, we will provide a brief overview of the top five that exist in the USA. Some are probably household names, but others may be entirely new to you.
Habitat For Humanity
Habitat For Humanity is probably one of the best-known building organizations in existence. It not only provides education to first-time homeowners on what to expect in dealing with a house, but also necessitates that they participate in the home building project themselves. This gives them a "stake" in their home and allows them to see what really goes into building such as structure. Habitat for Humanity is technically a Christian organization, but they accept people of all faiths to help out.
Building Homes For Heroes
Building Homes For Heroes is a lesser-known organization that has been around since 2006. It primarily focuses on building homes for veterans of the Iraq and Afghanistan wars, who make up a sizable amount of the homeless population. Building Homes For Heroes takes pride in the fact that they average building one home every 11 days. Many of these homes are mortgage-free to honor the service that our veterans have already provided for us.
The Fuller Center For Housing
The Fuller Center For Housing is an international organization that builds homes all over the world by aligning themselves with construction volunteers. They work in cooperation with multiple faith groups, other service-oriented organizations, and countless volunteers to build and repair homes. All homeowners work hand-in-hand with volunteers to build their own homes, which are then sold to them on terms they can afford, based on the Biblical idea of no-profit, no-interest loans.
Home For Our Troops
The Home For Our Troops charity is another home charity that was founded to deal with veterans after 9/11 that have disabling injuries. In this way, they specialize in building homes that are unique and customized to whatever the veteran's disability is. They are an incredibly efficient organization, with approximately 90 cents out of every dollar donated going to directly fund their projects. Because Home For Our Troops builds customized homes for unique veterans, they are always on the lookout for volunteers and construction experts that can do customized work.
The Make It Right Foundation
The Make It Right Foundation is unique among home charities in that it is founded by a celebrity. That celebrity is none other than Brad Pitt, multi-million dollar movie star and fan of eco-friendly housing. So far they have committed to projects on Native American reservations in Montana, as well as helping out in Louisiana. They are committed to using LEED-certified materials and making the cost of housing as low as possible while also improving the surrounding environment. Every home charity could learn a thing or two from Mr. Pitt!
Yes, You Have Skills To Help Home Charities
Lots of people neglect helping home charities because they think that they don't have the necessary skills that the organizations require. You certainly don't have to be a plumber, contractor, or a licensed professional to help out in building homes. They need many people to do basic duties, such as help put up chain link fences, or paint the various walls that are constructed. Even if you are disabled and cannot perform physical labor, you will still be a vital asset to an organization if you are there to talk to others, assist with meal breaks and provide uplifting moral support.
You may be a professional that you think has "soft skills" that home charities don't need, such as interior design knowledge or remodeling. This is absolutely not true, and your knowledge of what paint colors and designs can be implemented will help create a truly unique home that will be the treasure and joy of the season for the lucky family that receives it. They may not know who helped to make their home the wonderful product that it is, but you'll have the satisfaction of practicing your trade and knowing you helped out far into the future.
One of the most useful services for constructing a new home is roofing services. If you or someone that you know has these skills and is willing to sell them at an affordable price or volunteer every so often, then you will always be in demand. The roof is probably the most important part of constructing a house after the foundation is completed, so it is no surprise that these skills are in demand. It is also one of the few areas that private citizens are normally not allowed because it is a high-risk activity where a lot can do wrong.
Lesser-known services, such as being able to constructing professional siding or lay tile, are also in demand. How much they are in demand depends on the home and who's building it, and whether it is being customized for an individual or a family. You may be able to work with materials that are not usually around for other sites that you help build, or bring totally fresh ideas to the table. If you have these skills or any others, always make sure to bring them up first so that the organization knows they are dealing with a skilled laborer and not simply a volunteer.
If You're In Housing, Incentivize Yourself To Help Others
Here's a smart tip if you're a real estate agent or involved in the selling of real estate: promote your business while also doing good deeds. People are not going to stop buying houses anytime soon, but they'd prefer to buy houses at the right price from someone that they trust and consider honest. If you look at your business, you may want to consider incentivizing yourself and your customers by offering to help home charities for every home you sell or show.
It can even become a tiered system that you are transparent about. For every house you show, you can assure your potential customers that you are making a monetary donation to one of the home charities on your list (allow the customer to choose). You may show dozens of houses in a month, adding up to you giving a significant donation for simply doing your job in being a great agent. However, if you sell a house you may want to consider donating a weekend or full day to helping out on the construction project of a charity home. A bonus will be that you'll learn about new construction methods and have lots of insight to share with your customers.
If you're a new home builder or work for a construction agency, consider talking with your superiors about donating extra, broken, or unused materials to the home charities of your choice. Not only will you be saving items from going in the trash, but you may be able to have the charity announce that these materials are from your company and get a bit of advertising in. It is the best type of advertising, because everyone that hears about it knows that it was done out of goodwill and not simply paid for. This has the potential to create a strong psychological incentive for people to do business with you.
Giving Back Is A Present In Itself
There is a reason why the holiday season is called "the season for giving." Yes, people give presents and all sorts of fancy consumer items to each other. Sometimes these items are the simplest little trinkets, other times they are multi-thousand dollar extravagant exchanges. This is a great precedent to have year after year so that we never forget our power in helping each other and connecting as individuals.
But while giving things to each other is nice, perhaps the greatest form of giving is when we are of service to each other. This why the act of helping home charities, whether it is through monetary donations or plying your expert knowledge of backyard fences can be so life-changing. To help someone have a home to all their own, a foundation in which to become their best selves and contribute fully as a member of society…that is truly a great thing.
As individuals we may have all sorts of differences between us that appear to divide us. But no matter where we're from, what we look like, or what we believe, we all have inside of us the ability to cooperate and help others onward toward the future. As long as we never forget that, the spirit of giving and opportunity shall never leave us and be omnipresent for many holiday seasons to come. On that note, we shall wish you happy holidays, and a very merry new year!